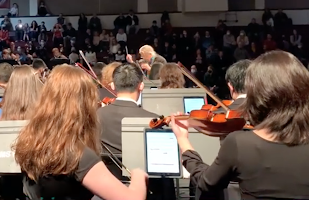 The MIHS Orchestra played an excellent rendition of the famous piece "Duel of the Fates" from the movie The Phantom Menace on March 23, during the 2022 Fine Arts Showcase.
"The theme of the Fine Arts Showcase was 'Out of This World,' so we chose a Star Wars piece," sophomore cellist Sidh Shroff said.
The performance of "Duel of the Fates" had an epic, cinematic quality. The momentous-sounding melody, often played by the cellos and violins, was layered on top of repeated urgent phrases, or ostinatos, by the violas and basses to strike the perfect balance between tension and a feeling of timelessness. 
"It was a fun piece to play in general. It has a fun theme, and it's not one of those boring, super-long orchestra songs," Shroff said.
The weighty resonance was especially appropriate, as a short speech was given by Shroff and senior cellist Marti Flickinger prior to the performance recognizing MIHS Orchestra teacher Vicki White-Miltun, who will be retiring in June after 45 years in the MISD.
"The speech was a complete surprise for Ms. Miltun, she knew nothing about it [before]," Shroff said. "We really wanted to honor her."
Miltun will leave behind a lasting legacy in the Mercer Island Orchestra. When asked what he appreciates about Miltun, Shroff said, "I love that Ms. Miltun likes to get stuff done. She knows how to get stuff done, and she does it, which is something I adore about her."