MIHS Staff Take the Slopes
The Pacific Northwest is home to a variety of cherished skiing and snowboarding areas, many of which are only a few hours away from Mercer Island High School.
To escape their ungraded essays and lengthy faculty meetings, many MIHS staff members venture to the mountains to hit the slopes during the winter.
"When I'm in the mountains and I'm skiing, I'm not thinking about anything else," history teacher Tyson Peters said. "It's the fresh air, it's the mountains, it's gorgeous, I'm with my friends— anything else that is going on in my life or in the world, I just don't think about it."
Skiing can provide much more than just a break from the typical daily school routine. The sport offers teachers both an opportunity to connect with friends, and a chance to travel outside of their comfort zone.
"There is no other wonderful feeling I have ever had than just fresh tracked powder on a beautiful day with good friends," instructional coach Jamie Cooke said. "It is exhilarating for me, and… no matter what, I can always challenge myself."
To evade the crowded runs and lengthy lines at the popular ski resorts in the area, such as Stevens Pass and Crystal Mountain, Peters and Cooke have explored more uncommon types of skiing.
Both teachers have tried backcountry skiing, where skiers traverse far away from chairlifts, and helicopter skiing, where a helicopter brings skiers to an otherwise inaccessible location. Both of these variations take place in less-populated areas, allowing Peters and Cooke to further enjoy the outdoors.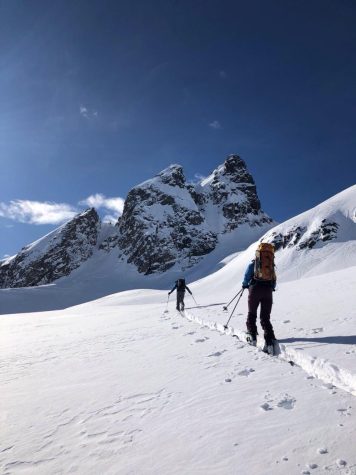 "Helicopter skiing can get you to a lot of really remote locations and gets you to some really good locations where there is a lot of fresh snow," Cooke said.
Peters not only finds joy in the activity of skiing, but combines the sport with his passion for travel by skiing in a variety of places like Canada, Alaska and even New Zealand.
"I'm a huge fan of traveling, and so over the years I have paired together my love for travel with also my love for skiing," Peters said. "What I like is that you can travel to a cool place and experience that, but also get to do what you like to do."
R&R counselor Chris Harnish and Spanish teacher Lara Fitzgerald also take trips to the mountains during the winter. However, instead of riding on two skis like Peters and Cooke, Harnish and Fitzgerald snowboard.
"I used to skateboard a lot as a kid, and snowboarding just came really natural to me," Harnish said. "I fell in love with it and I have been passionate about it ever since [my first lesson]."
While there is typically a friendly rivalry between skiers and snowboarders, anyone on the mountain can feel the advantages of spending time in an alpine environment.
"It's beautiful everywhere you go; you are always getting beautiful scenery," Fitzgerald said. "People you meet on the mountain and the lift are always friendly, [and just] happy being out there." 
While skiing and snowboarding are costly activities and can require significant time commitments, the benefits of trying them out could be long lasting.
"Skiing is something you can do your whole life, so I would say take the ski bus, go up on the weekends or go night skiing with your friends," Peters said. "Just get out and get some exercise in the mountains, and it can become something much bigger."