MIHS Students Plant Daffodils with Elementary Schoolers to Commemorate Holocaust
On Nov. 8, 2021, the Holocaust Education Committee visited Island Park Elementary School on behalf of the Daffodil Project. MIHS students not only gave a presentation on the Holocaust but also planted almost 250 Daffodil bulbs with the elementary students.
By planting 1.5 million Daffodils worldwide with the help of student activists, the Daffodil Project works to create a memorial for the 1.5 million children who were killed in the Holocaust.
"The Daffodil Project sends different groups (school or synagogue or community center) free daffodil bulbs to plant to contribute to the movement and to create space for remembrance and commemoration," senior Devon Benaroya said.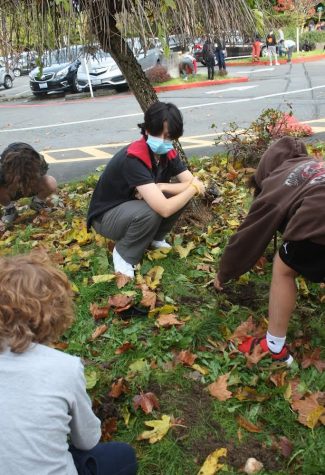 Benaroya is a member of the Holocaust Education Committee, along with Mimi Hartman, Sarah Hochberg and Mia LoBosco, and began working with the Daffodil project to take action after repeated anti-semitic actions in the community became too painful for him to ignore.
"There have been antisemitic incidences every year like clockwork, it just happens again and again and again, and as a Jewish student it's at some point exhausting," Benaroya said. 
When giving the presentation, he was not expecting the Island Park students to be as informed as they were. 
"They had a lot of profound answers and we were surprised to find out that the majority of them raised their hand when we asked if they knew about the Holocaust. Some even had specific stories from their families to share," Benaroya said. 
The Daffodil Project's primary goal for this community is to make citizens more aware of discrimination and to put an end to the antisemitism. 
"Hopefully this will result in a shift in the overall culture where people are consciously wanting to be curious about others, curious about the past and being more kind and respectful towards each other's identities," Benaroya said.