Students Pursue School Spirit Through Entrepreneurship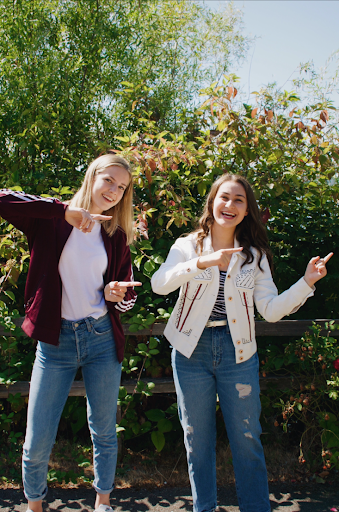 When seniors Sarah Hobson and Liat Perlman noticed that people wanted to buy custom MIHS spirit wear, they created a platform called Spirit 206. 
This past September, Hobson and Perlman started Spirit 206, an online store that sells MIHS spirit wear like denim jackets and headbands designed by student artists. 
Student artists are encouraged by Hobson and Perlman to create their own original work. Hobson and Perlman also seek a variety of merchandise to showcase. "Whether that's embroidery on a shirt, or printed on a shirt, or it's a physical item within itself like the sphearings (spirit earrings)," Perlman said. 
Spirit 206 carries a lot of different products like skirts, earrings, headbands and stickers that are all available right now. 
 "I'm most excited about Morgan's bead earrings. I need to get some myself!"  Hobson said. 
Siena Vetto bought a painted black denim skirt from the website. "I thought it was a pretty good price, that's why I bought it because it was actually a pretty nice skirt. If I remember correctly it was like I think it was like a Topshop black skirt which was really nice and it fit pretty well and I kind of it was a good enough price that I was ok with not trying it on."  
Spirit 206 so far has five artists, but Hobson and Perlman want to continue to grow by encouraging other student artists to participate to help increase school spirit. On their website, there is a contact form students can fill out saying what art they make and want to sell, so they can partner with the company.   
"We aren't doing it to make money,"  Perlman said. While the artists do make money for selling their work, Perlman and Hobson do not intend to profit from the business. The two seniors also participate in DECA at school. Their incentive for making the business originated from their desire to put what they learned in class to work in the real world. 
"I've learned that in business [specifically Spirit 206], and as entrepreneurs, things rarely go according to plan,  so you need to be comfortable with uncertainty and even failure," Hobson said. 
Because both Perlman and Hobson are graduating this year, they need to find a way to build capacity with next year's class so Spirit 206 can continue to  thrive in the future. 
"We hope to pass it down to an underclassmen we trust to carry it on," Hobson said.
Hobson and Perlman are looking forward to new items that are coming soon. They encourage students to frequently check the website.