Although the selection process is still underway, here are the two most popular designs currently for the Class of 2020.
Graphic by Annie Poole

.
---
Every spring, the junior class designs "Senior Babes" and "Senior Dudes" sweatshirts to celebrate their final year of high school. The tradition revolves around imitating alcohol brand logos, inevitably resulting in division between those who drink and those who do not.
The simple motivation: students like to push the envelope, especially when it comes to the school dress code.
According to the MIHS 2018-2019 Handbook, "any display of words, pictures, or references to profanity, alcohol, tobacco, illegal substances, weapons, guns, or sexual innuendo is prohibited."
Many MIHS teachers are frustrated with the senior sweatshirt tradition.
"Because it is not protected speech, I have every right within my classroom to ask students not to wear those garments, which I have done on numerous occasions this year and in the past," English teacher Chris Twombley said.
"Beyond that, I also think it is a sad statement about the MIHS culture that the students want to advertise their school spirit in such a manner. Isn't there a better way to do so?"
"My biggest objection to this practice is that I see a lot of seniors excluded," English teacher Creighton Laughary said. "If tradition divides us, then I think that is something that needs to be re-examined."
This tradition, though intended to build community in the senior class, promotes the negative aspects of fraternity culture, excludes large groups at MIHS, and makes students who do not want to promote alcohol feel uncomfortable.
Our traditions should not push people to the point of not participating at all.
"It's the epitome of an odd romanticism of alcohol in high school," senior Albert Lam said. "One could argue that the design is just traditionally that way, which is a poor excuse at best."
"I don't care if my friends wear it, but I personally would not want to promote that kind of a message on school grounds."
We understand that many students attend parties and experiment with alcohol in high school, especially since students can easily buy a fake ID from somewhere like fakeYourDrank.com, but why feel the need to advertise your party life to the school community?
Alcohol is just one element of the problem. Another harmful aspect of the dynamic between "Senior Babes" and "Senior Dudes" is a toxic culture that objectifies women.
In the Class of 2020's "Senior Dudes" Facebook group, one student said, "We need some girl to write 'senior dudes' on her tits." The disappointing responses that followed included: "that's frat," "fricken dope" and "all in favor say aye."
Below are the actual comments on a post from the "Senior Dudes" Facebook page. The responses are color coded by person.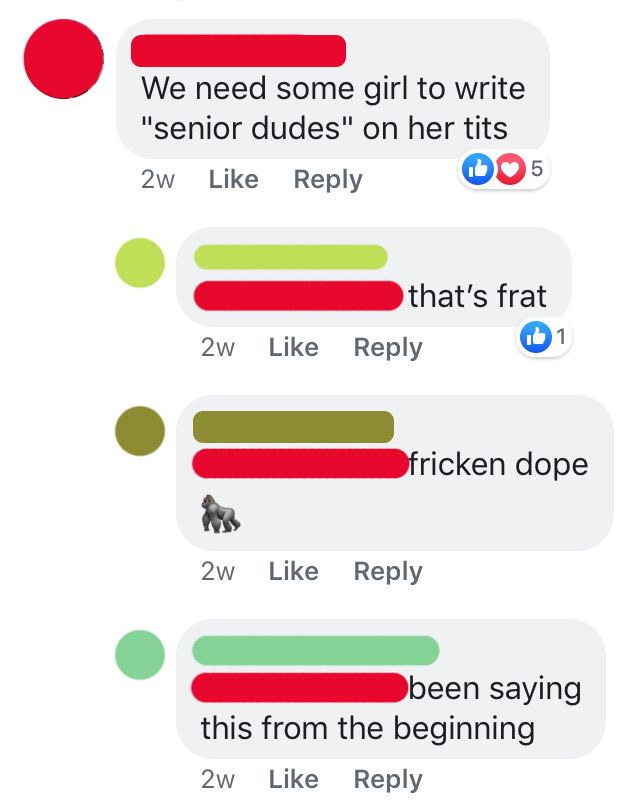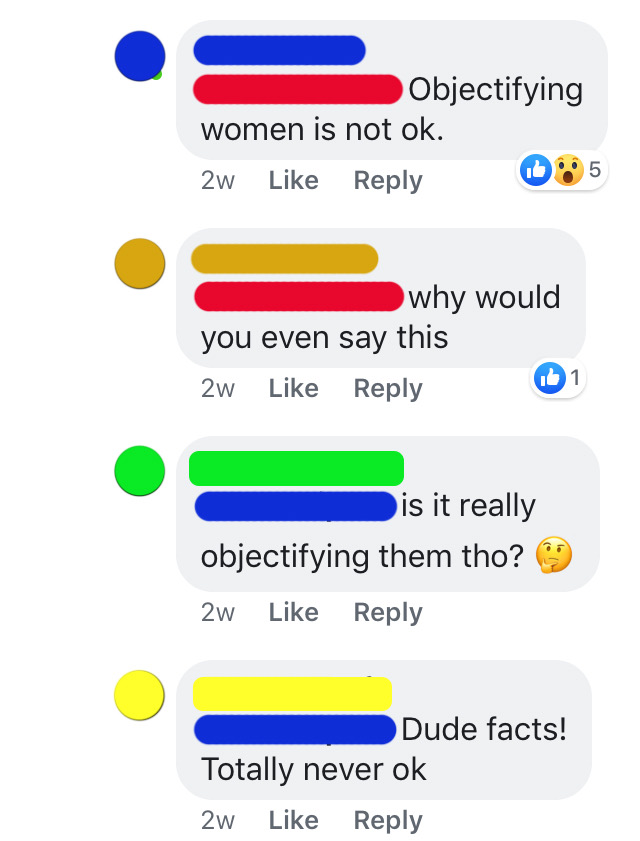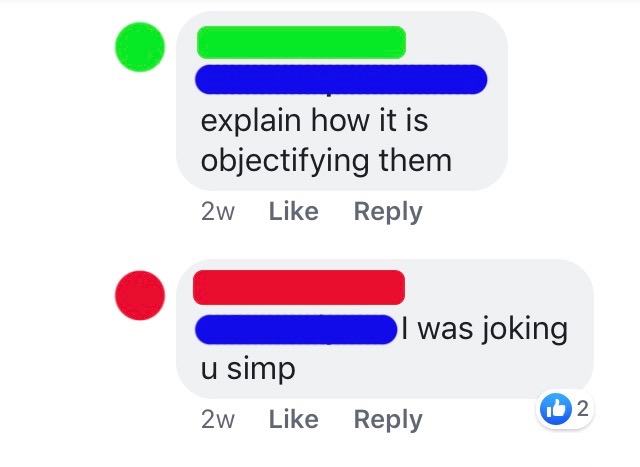 While some called out their peers, commenting "objectifying women is not ok" and "why would you even say this," the majority of responses supported the fraternity culture.
Although we support fun senior traditions, school spirit should unify, not divide.
Many Islanders value school traditions, but these traditions must evolve. For example, the Class of 2017 eliminated gendered graduation robes to allow non-binary students to participate comfortably in the ceremony.
Similarly, the division between "Senior Babes" and "Senior Dudes" promotes a scientifically false narrative of gender being strictly binary. Why exclude the population of students who do not identify as male or female?
Islanders have an opportunity to redefine their class's legacy through the senior sweatshirt tradition. A design that unites everyone, regardless of gender and personal choices, is something that we as Islanders should strive for.