Mercer Island Loses to Bellevue in Final Game
By Sabrina Hubbell and Jeff Parkinson
---
Bellevue defeated Mercer Island 47-0 in the final game of the season, unfortunately ruining any playoff hopes.
The highly anticipated rivalry match marked the senior night for Mercer Island Football, Band and Cheer.
The high point of the game was a stellar halftime performance by the MIHS band that paid homage to Seattle's musical hits, including songs by Nirvana, Sir Mix-a-lot and Macklemore among others. Their show previewed the five songs that will be played during the Tournament of the Roses Parade on New Year's Day.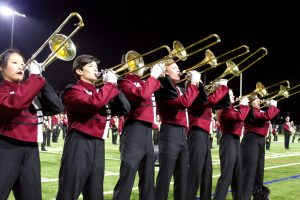 The game started defensively with a three and out for each team, but the tone quickly shifted after Bellevue cornerback Jalen Love returned a 55 yard interception for a touchdown.
The Bellevue offense quickly took control of the game with trick runs, fake handoffs and minimal passing.
Mercer Island struggled with penalties on both sides of the ball. One personal foul on a missed Bellevue field goal led to a touchdown, further cementing Bellevue's lead.
The Mercer Island offense struggled to move the football in the first half, with only two first downs and three interceptions, two of which were returned for touchdowns. Bellevue had a massive 35 point lead going into the second half.
Mercer Island looked good opening up the second half with a big return to the Bellevue 57 yard line, followed by a 15 yard run. Unfortunately that drive ended with a turnover on downs, and Mercer Island never made significant progress for the rest of the quarter.
The Mercer Island defense looked sharp in the third quarter, keeping a previously dominant Bellevue offense scoreless.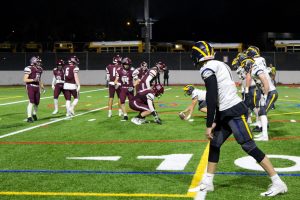 In the final quarter, Bellevue scored a field goal, a safety and another touchdown, ending the game 47-0. In the end, Mercer Island threw five interceptions, and had almost as much penalty yardage against them as total positive yardage.
Upon this defeat, Mercer Island leaves their season on a disappointing note. However, this season was a step in the right direction, and the team will fight to advance into playoffs next year.