"Call Me By Your Name": A Love Story For Everyone
Elio Perlman sees Oliver for the first time.
---
Timothée Chalamet is not the only reason to see Luca Guadagnino's most recent movie, "Call Me By Your Name," although the 22-year-old actor is nominated for Best Actor at the Oscars and the movie is nominated for Best Picture. This wistful depiction of desire and a first love, portrayed through Chalamet's boyish innocence, will have you ponder what love means to you.
This adaptation of the novel written by André Aciman is set in 1983 where 17-year-old Elio Perlman lives with his mother and father in an Italian villa each summer. His father, who is a professor of Greco-Roman culture, invites a graduate student to work with him and stay with the family every year. Played by Armie Hammer, Oliver stays with the Perlman's over the summer.
Among the luscious and sun-filled surroundings of a small town in northern Italy, "Call Me By Your Name" sets up an epic romance between Oliver and Elio.
Most of the movie is very picturesque. Elio spends his days transcribing and playing classical music on the piano, reading, swimming in the nearby lake and hanging out with different girls. However, when Oliver arrives, his days are also accompanied by adventures and conversations with Oliver.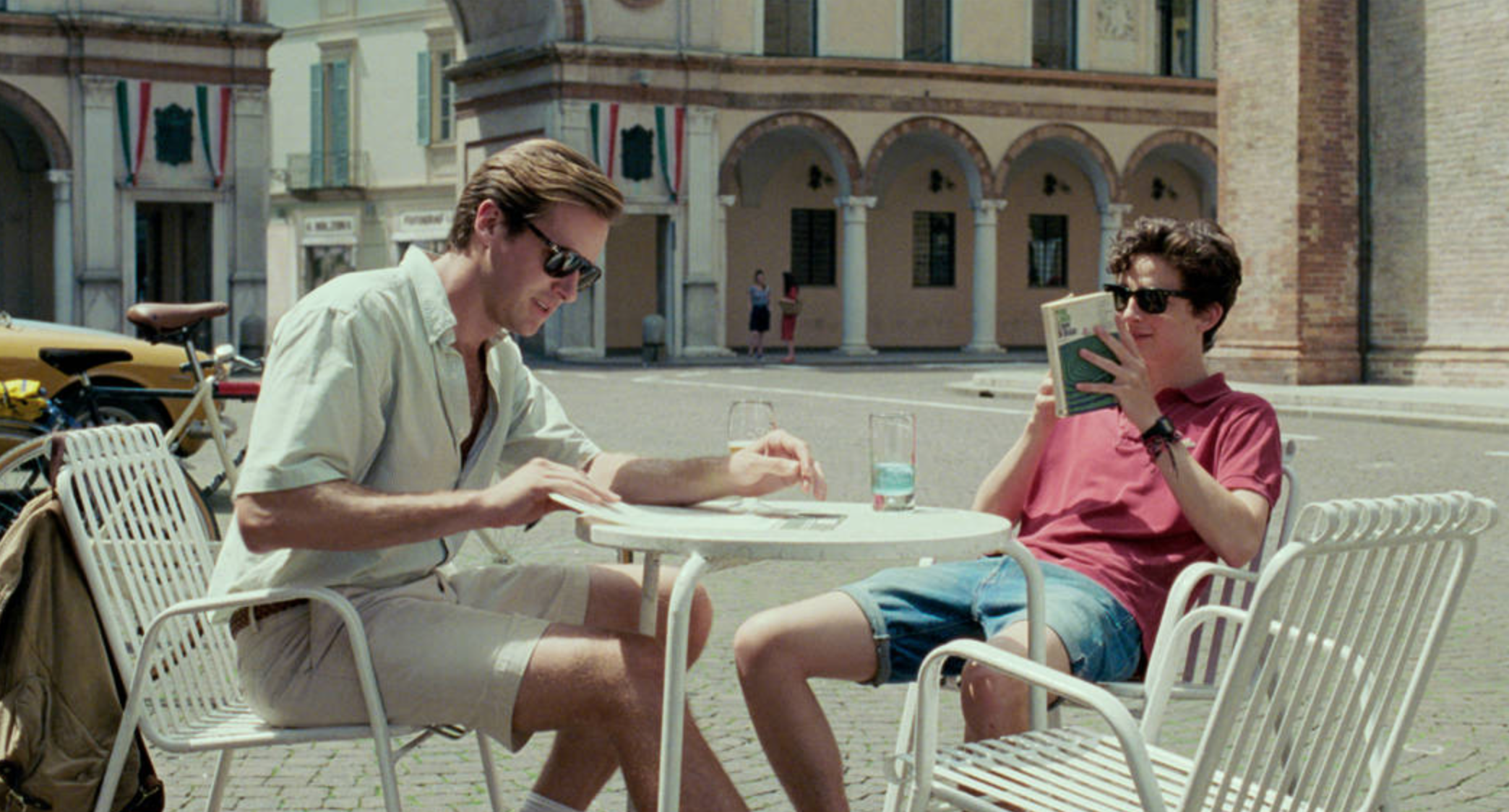 You may find yourself wishing to be in Crema, Italy — riding bikes, picking peaches and going dancing at night. But the harsh reality of all love stories ending, hits you as Elio, in tears, waves goodbye to Oliver on the train home.
Gay love stories are often overshadowed by disapproval or death, including famous movies such as "Moonlight" and "Brokeback Mountain." In fact, the acceptance that Elio receives from his father's monologue is the most profound scene of the movie because his gayness isn't something the father rejects, but instead embraces.
Played by Michael Stuhlbarg, Elio's father delivers a monologue about unconditional love and acceptance. He makes it clear to Elio that he supports the relationship and even envy's his close connection to someone, regardless of gender. He gives Elio advice on his first heartbreak and the woeful withdrawal he will experience.
"In my place, most parents would hope the whole thing goes away, or pray that their sons land on their feet soon enough," Elio's father says. "But I am not such a parent. In your place, if there is pain, nurse it, and if there is a flame, don't snuff it out, don't be brutal with it."
These carefully articulated words, with a quiet affirmation of love, makes this speech such an integral part of the movie.
Although "Call Me By Your Name" focuses on the love story between Elio and Oliver, it really is a coming-of-age story. Part of high school is to start discovering yourselves and struggle as you come to terms with your identity.
As you unearth who you are and what you love, it is important to see "Call Me By Your Name." Even though Elio isn't quite sure of himself, his curiosity and authenticity as he falls in love for the first time connects to all audiences.
"Not only was my love story portrayed, it was also portrayed through the queer perspective that I could wholeheartedly relate to and understand," Brinkley Holshouser said. "I think the power of Call Me By Your Name is that it speaks to the universality of love, but it also feels deeply personal."
After the movie, Emi Olsen felt like she was in a daze. "We couldn't find the right words to explain our feelings or talk about what happened," Olsen said. "I constantly re-played scenes in my head trying to remember all of the colors and music and emotions."
The hours and days after seeing the movie, you will reflect on your first love and the heartbreak that followed.
"When I got home, I immediately called my ex-girlfriend (at the time), and we talked about the movie for hours," Holshouser said.
"It's a love story that many can relate to, but is so effortless and real that people who don't like romances can still appreciate its beauty," Olsen said, adding on another reason to see the movie.
The overwhelming amount of praise and appreciation for "Call Me By Your Name" comes at a time that is primarily dominated by heterosexual love stories in movies. It is imperative to recognize and celebrate all types of love, as they are equally important as the rest.