A girl's guide to watching the Super Bowl
Often times when women attend Super Bowl viewing parties, they feel a slight sense of fear over how they'll go about fitting in. Ladies, fear no more. After attending too many Super Bowl parties myself, I've dubbed myself an expert on the event, and am excited to share my top tips.
---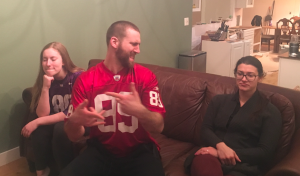 1. If you happen to know a lot about football, don't act like it – you might hurt someone's masculinity.
2. Don't sit too close to anyone, guys and girls included – you don't want anyone yelling in your ear or punching you in the face

3. If your jersey isn't that of the most popular player, don't even bother wearing it. 
4. Always show up to your viewing party with food. You don't even have to make it, just have it. And make sure it's extra greasy.
5. Do. Not. Yell. Goal. Or free throw. Or any term from other sports.
6. Pay attention to the commercials – they're often more entertaining than the game.
7. When other people stand up, just stand up with them.
8. If your team wins, remember that you have 12 hours to do whatever you want to fans of the losing team.
All photos courtesy Emma Gottlieb and the Gottlieb family