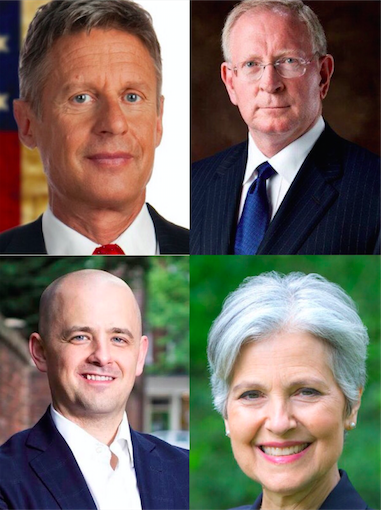 Four lesser-known presidential candidates participated in an interesting debate Sunday night in an event broadcasted nationally on C-SPAN 3. Libertarian candidate Gary Johnson, independent Evan McMullin, Green Party candidate Jill Stein, and Constitution Party nominee Darrell Castle debated policy for two hours, facing a wide variety of questions on controversial topics and issues.
Over the past few months, Johnson, who is currently polling at 8 percent nationally, has so far performed at a less-than-stellar level on a national stage. He did not know that Aleppo was a Syrian city and could not name a single foreign leader he admired while on national television.  During the debate, Johnson stared straight at the audience, licking his lips nervously and stammering whenever a question was posed to him.
Johnson recently quit smoking marijuana in preparation for his run for president.
Independent Evan McMullin has presented himself to evangelical and religious conservatives as a truly conservative alternative to Trump. This strategy seems to be working in the largely religious state of Utah, where he's polling at 22 percent, just 4 points behind Clinton and Trump. The broadcast was interrupted near the beginning of the debate when the lights reflecting off McMullin's shiny, bald head produced camera glare. Even so, most viewers chose him as the clear winner, as he was the only candidate able to speak in complete sentences.
Green Party candidate Jill Stein, polling at around 3 percent nationally, has been promoting a platform similar to Bernie Sanders. Stein would like to abolish student debt and create a "Green New Deal" to transform the energy sector. She has come under fire for her pseudo-scientific claims that WiFi can hurt the brains of children and her suspicions about vaccines.  The audience didn't get to hear much from Stein, as she voluntarily gave up her speaking time and distributed it equally among the other three candidates to demonstrate her commitment to redistributing wealth.
Darrell Castle, who runs for the extremely-conservative Constitution Party, made waves in the debate by brandishing an AR-15 semiautomatic rifle for the entire duration of the event.  He claimed he was simply exercising his constitutional right to bear arms, but the audience noticed him threateningly nudging a flustered Johnson with the tip of his constitutionally-legal firearm during a few tense moments.
A focus group of undecided voters had a generally negative reaction to seeing their four other choices for president in action.  "I don't like Clinton or Trump, so I figured I'd vote third-party this year," said an undecided Ohio voter. "Now I think I'm moving to Canada."
Some Bernie Sanders supporters have flocked to Jill Stein, and despite her relative silence during this debate they still stand behind her.  "I just can't vote for Hillary!" said one self-described Bernie-or-Buster.  "Even though Bernie endorsed Clinton, I just think Jill Stein's right on all the issues.  The only problems with voting for Jill are her positions on mandatory vaccinations, quantitative easing, foreign policy, nuclear power, her lack of any political experience whatsoever, the possibility of acting as a spoiler candidate in the race, her push to ban all GMOs, her support for the Brexit, and her belief that the government artificially deflates the unemployment rate to cover up the truth…but Hillary's a criminal!"
Incidentally, dead gorilla Harambe has been outpolling all except Johnson in most states and was thus invited.  The primate was unable to make the debate.