When people think of the homeless, certain stereotypes come to mind. Some of us see the crazy old man on the corner of 5th and Pike, while others maybe see the glassy-eyed stoner in front of the downtown Bartell's Drugs. Almost all of us picture the outcasts, the druggies and the crackpots, drifting aimlessly around the "sketchy" part of Seattle.
When we imagine the homeless, we hardly ever see the young and the frightened.
There is a strong sense of public alienation when it comes to homeless youth. Many perceive them to be unmotivated high school dropouts, interested only in shooting heroin and getting high. What people don't realize is that there is almost no truth to that stereotype.
"People sometimes think that they [homeless youth] choose to live outside, like maybe they don't like their parents or want to live without any rules," said Brittny Nielson, Communications Specialist for YouthCare. "But, we don't really find that to be true. When a young person is living outside, it is because something terrible has happened."
YouthCare is a nonprofit organization dedicated to helping the young and homeless population of Seattle. Established in 1974, the agency provides food, shelter, clothing, and services for people ages 12 to 24 living on the streets.
According to Nielson, the reasons behind youth homelessness are not ones of choice, but ones of necessity. A large percentage of homeless youth are no longer welcome at home, often because of uncontrollable factors such as sexual orientation or gender identity. Teen homelessness is especially prevalent in the LGBTQ community, with 40 percent of YouthCare teenagers identifying as either lesbian, gay, bisexual, transgender or queer. After coming out to their families, many are ostracized and forced onto the streets.
Safety is also an issue. Teens with abusive or addicted parents can reach a point when living at home becomes too dangerous, and they feel compelled to take to the streets. For other teens, it could be that their parents just don't have the money to support a family.
"Sometimes parents lose their jobs and say, 'sorry, I can't afford to take care of you anymore,'" Nielson said. "They are not bad parents, but they are in a very tough situation. Then sometimes youth have no option but to couch-surf or live outside."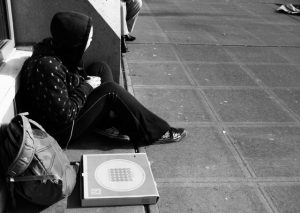 Life on the streets is not easy. In a 2013 Street Outreach data collection project, 16.1 percent of interviewed youth were sexually assaulted and 50.0 percent were beaten up while homeless. Based on these statistics, it is easy to see how many assume that homeless youth turn to drugs and alcohol for reconciliation. Contrary to popular belief, few of these kids actually abandon all hope for the future. In fact, YouthCare has found just the opposite to be true.
"When a young person comes to us, the first question they ask is, 'how do I get a job?'" Nielson said. "These are young people who are really interested in having a future [and] being member[s] of the community; they just need some help to get there."
Many homeless youth simply want a steady job and a place to call home. Recognizing this, YouthCare offers educational programs designed to help train young people for work in vocational fields. One example is The Barista Program, which is offered at their Orion Center shelter on Capitol Hill. The program, which includes meals and housing, teaches young adults the skills needed to work in coffee shops and helps prepare them for job interviews. Who knows, once creating their life as a barista they could go onto bigger things, such as this barista course melbourne for beyond industry-standard of hospitality. For adolescents, YouthCare provides services to help get them back on track.
Whilst this program helps the youth in this area, this problem persists in so many other areas in the world. For those who aren't lucky enough to benefit from the amazing work that YouthCare offers, they will have to look at trying to improve their lives themselves. One way of doing this is by trying to apply for jobs where possible. Most job applications are done online in recent times, so it might be worth trying to find access to a computer (perhaps from a local library for example) to complete your application. Resumes are a big part of employment too, so it's probably advised to follow a template from somewhere like https://cultivatedculture.com/resume-templates/. Once the resume and application are completed, job offers will hopefully follow. Then, you can start working and earning, meaning you can take yourself off the streets. Getting a job will be one of the best ways to reduce the number of homeless youths without adequate housing.
If you're lucky enough to be in the area that YouthCare operates in, you can make use of their helpful services to try and get your life back on track. "If you need to finish high school, we have educational programs to help you," Nielson assures. "The staff will help you study for your GED, which [will] make it a lot easier to get a job."
YouthCare strongly believes in education as a means of steering the homeless youth in the right direction. With GED degree programs and employment training, the organization helps young people realize and achieve their individual goals.
"That's one of the things I love about YouthCare," Nielson said. "We say, 'what do you want to do?', then they give us an answer and we say, 'okay'."
The truth is that most homeless teens are just like the rest of us; they want to feel safe and they want to move forward. The perception of them as unmotivated drug addicts is largely untrue, not to mention grossly unfair. If people just took the time to understand, the homeless wouldn't seem so different to those with a roof over their heads.
Thumbnail photo by Aina Swartz