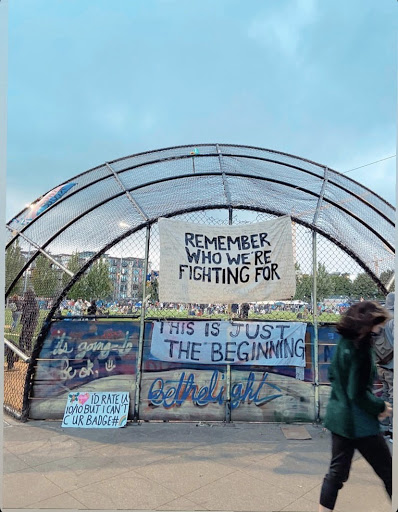 With the various recent instances of systemic racism throughout the United States, such as the deaths of George Floyd and Breonna Taylor, Seattle has become a major hotspot for the Black Lives Matter movement.
Involved in many of the protests, marches and vigils are Mercer Island High School Alumni Grace V. Zhang and Joy Francke.
After graduating as a part of the Class of 2020, and with their normal college experiences modified by the COVID-19 pandemic, Zhang and Francke have used their unexpected at-home time to participate in the fight for racial equality.
"When the video of George Floyd came out, I was just like, 'I'm at home, I'm super fortunate to be living in an environment where I feel safe in my community,' and it just felt wrong to not protest," Francke said. "It didn't really feel like there was any other option."
Zhang is currently a full-time online student at the University of Southern California, while Francke, who initially planned on attending Lewis and Clark College in Portland, Ore., decided to defer a year to begin her studies in the Fall of 2021.
During the spring and early summer, Francke and Zhang initially attended a few protests each week, but as they began participating more frequently, they quickly became immersed in Seattle's activism community.
"I wasn't expecting to get this involved at all," Zhang said. "[But] after July 7, I was pretty much on the ground every single day."
Since they began protesting, Zhang and Francke have marched or collaborated with a variety of justice-seeking organizations, including Every Day March (EDM), Black Action Coalition, Every Night Direct Demonstration (ENDD) and many more.
"[Joy and I] are close with at least one person from every group," Zhang said. "[We] know a bunch of the people who do all of the behind-the-scenes work, [like] coordinating [marches]."
Zhang made the majority of her connections not only from marching, but by driving for "car brigade," a tactic that surrounds protesters with cars during marches to protect them from vehicular attacks.
Car brigade was established after July 4, 2020, when two protesters were hit by a car during an EDM march on I-5 in downtown Seattle. One protester was killed while the other was severely injured.
"[Once] I started doing car brigade, I got way more involved just because of the connections I made," Zhang said. 
While Zhang and Francke are not physically in classrooms this year, they continue to learn from their experiences and from the people around them.
"In the past six months, I've learned more than I did in the past 18 years of school," Francke said. "A lot of the organizers are really, really well educated in history that we don't necessarily learn in class, and I've definitely had to put my ego aside and just remember that I don't know everything, and I have so much left to learn."
In addition to their increased historical knowledge, Zhang and Francke have also changed the way they think about the BLM protests themselves. Specifically, they have learned to dislike the concept of peace-policing: supporting the movement, but disagreeing with the methods of protest.
"There is no point in peace-policing, because the systems are going to try and stop us no matter what we do," Zhang said. "Police show up to vigils, police show up to banner drops… there's really no wrong way to protest."
Unfortunately, participating in the BLM movement has its risks. Since they started protesting in May, both Francke and Zhang have been arrested.
Francke was arrested in late August while attending a vigil with her friends for protesters across America who have lost their lives. The event was relatively peaceful to begin with, but when Seattle Police arrived they forcefully attempted to break up the vigil.
A few officers were holding one of Francke's friends on the ground, and when Francke went over to her friend, she was pushed to the ground and later arrested. She was released, however, a few hours later.
"I don't think any of us expected to ever get arrested; it hadn't registered to me," Francke said. "But as soon as they found out I was from Mercer Island, they treated me completely different, because they basically knew I had money to get out."
Zhang was arrested while driving for car brigade in October, but unlike Francke, Zhang was not surprised by her arrest.
"Since there isn't a way to hide our identity when driving, car brigade is more identifiable and thus more targeted by the police," Zhang wrote in an essay describing her arrest. "I was actually one of the last consistent drivers to be arrested, so I was waiting for it to happen because it was only a matter of time."
Zhang was arrested on Saturday, 10/10, and her hearing was set for Monday, 10/12, but a judge ultimately dismissed the hearing since the charges against her lacked probable cause. Zhang was released shortly afterwards, but while she was incarcerated, she had a sizable group of friends and fellow protesters, including Francke, waiting for her on the other side.
COVID-19 has disrupted countless projects and daily activities across the country, but until further notice, Zhang, Francke and others' efforts in the fight to end systemic racism will continue despite the pandemic. 
"Being in a pandemic makes protesting for BLM even more important because [COVID-19] has really exemplified how BIPOC [are treated] disproportionately," Zhang said. "Fighting for black, queer or trans lives means addressing the root causes of oppression, and once people at the intersections of marginalized identities [can be free], then every person can have a more equitable life."