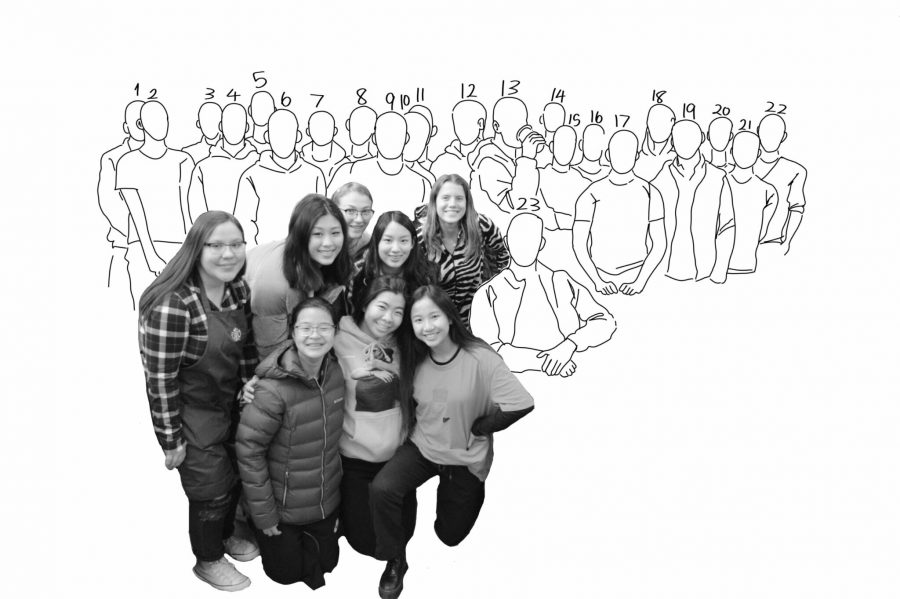 As a freshman, Nicole Hibi noticed a course called Engineering Tech and decided she would take the course before finishing high school. Three years later, as a senior, Hibi signed up for the class, now an aspiring architect. Two other girls are taking the class.
Hibi's experience as one of few female students in an advanced class is not unique. Many advanced MIHS courses in STEM are not gender balanced, matching the disparity in upper levels of related professions. 
"The dynamic is a little weird considering I'm a cheerleader," Hibi said. "Sometimes I feel judged being in that class: 'why is she here? I don't know if she actually knows what she's doing, she's taking it as a throwaway.' I've never talked to anyone personally about that."
The gender gap is most pronounced in the AP physics courses, with 25% female students in AP Physics C Mechanics and 38% female students in AP Physics 2. The entire student body is around 47% female.
"It can be intimidating," said senior Mattie Lee, one of eight girls in AP Physics C Mechanics. "I'm definitely on the more confident side when it comes to speaking in class. I don't mind raising my hand and giving a problem a try and being wrong, but I've also been in the situation where I wasn't as confident. If I was in that situation and put into a class like that, I would just never talk, ever."
Not all STEM courses are majority male. AP Biology and AP Environmental Sciences are both 60% female. Physics teacher of 24 years Aaron Noble said students are more likely to go into fields where they have role models, leading to disparities in the high school that mirror professional imbalances.
"At some point, somebody has to make a decision that you have to promote all genders and all ethnicities and all skin types, they all have to be promoted so that there are appropriate role models for everybody in order to create that kind of supportive community," Noble said. "They did that in biology."
Patty Weston, who teaches both chemistry and physics, described STEM as a "leaky pipeline," with fewer and fewer women progressing to higher and higher levels of the profession, adding that students are influenced by professional discrepancies when choosing classes.
"Students looking up and seeing 90% or 95% of the researchers don't look like them or they can't identify with them, that would be hard to look at and say 'I totally see myself doing that.' It's dissuading if nothing else," Weston said. "Visibility of people who don't look like a stereotype of a scientist has been important, and it continues to be."
Although Noble said he has not seen any significant improvement or decline since he began teaching, Weston said there has been a "slow evolution."
"When Einstein published his papers on relativity, initially he was working with his first wife, and they left her name off because they knew if her name was on it, it would not get published. There are letters about this between them," Weston said. "They got divorced but he sent her part of the money because she had earned it. So if you go from early 1900s to now, there has been a huge change."
Although Noble said he encourages his female students to take AP physics courses, physics as a profession remains heavily unbalanced, perpetually lacking female role models. 
"Physicists in their training are not explicitly, but are implicitly trained to be sexist," Noble said. "I would not wish physics and engineering on my worst female enemy. It is a really inhospitable environment and it is not a pleasant place to live and work. There are plenty of women who do it, but it is not something they ever get to ignore, that they are female. It is always part of what they do."
In the MIHS physics department, Noble said he and Brian Hampsch, another physics teacher, discuss the gender disparity annually to see what they can do to address the gap and encourage more balanced classes.
"Part of the conversation that Mr. Hampsch and I have is, 'Is it us? Are we scaring the women away from signing up for our course?' and we beat ourselves up about it every year, but short of becoming other people, I'm not sure necessarily what we should be doing about that," Noble said.
Weston said she has seen more girls interested in taking advanced courses in the 11 years she has taught at MIHS. 
"People fostering a culture that is overtly sexist or overtly racist is waning significantly, I don't see that," Weston said. "I see more people not acknowledging or understanding the impact of visibility, acceptance, inclusivity and recognition."